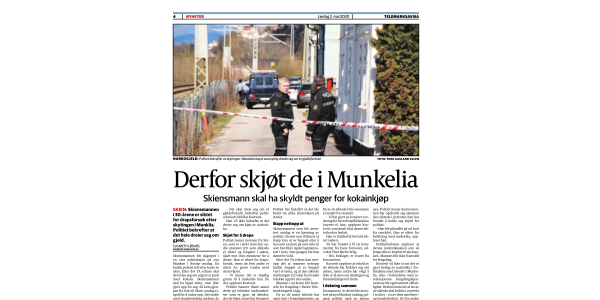 02 May

Skien: Drapsforsøk på grunn av uoppgjort kokaingjeld

En Skiensmann i 30-årene er siktet for drapsforsøk på grunn av kokaingjeld, ifølge Telemarksavisa. 

Den 15. april fant det sted en skuddveksling i Munkelia i Skien. En skiensmann ble pågrepet i en stor politiaksjon den 29. april og er mistenkt for drapsforsøk. En slektning av ham er allerede fengslet og skiktet for det samme.

Bakgrunnen for skytingen skal ifølge Telemarksavisa ha vært at en gjeng på fem menn i 20- og 30-årene fra Oslo kom til Skien den 15. april for å presse den nå pågrepne skiensmannen til å gjøre opp for et parti kokain han skal ha mottatt men ikke betalt. Konfrontasjonen mellom de to gruppene eskalerte til skyting i fredelige skiensgater.

De fem er nå siktet for grove trusler med skytevåpen mens de to skiensmennene altså er siktet for drapsforsøk.